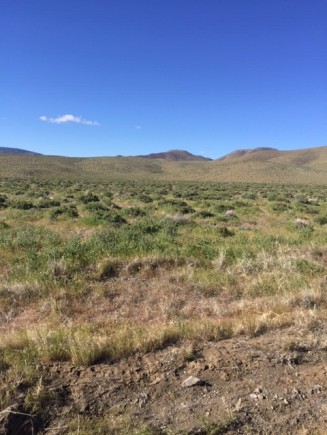 Wadsworth/Olinghouse, NV 89442
Washoe County

Lot Size:

&plusmn640 acres
Land For Sale in Wadsworth/Olinghouse, NV
Online Auction for ±640 Acres in Washoe County, NV
Property Description
This online auction is for a 640-acre property based in Washoe County, NV.
Property highlights and features as follows:


Approximately 200 acres/30% of the property is considered flat acreage


Zoning: GR


Property is based in Olinghouse/Wadsworth off of Olinghouse Rd


Exceptionally low cost per acre for land in Washoe County, NV


Located within short driving distance to Tahoe Reno Industrial Center
Washoe County
is a county in the U.S. state of Nevada. As of the 2010 census, the population was 421,407, making it Nevada's second-most populous county. Its county seat is Reno. There are two incorporated cities within the county, namely Reno and Sparks. In 2010, there was a ballot question asking whether the Reno city government and the Washoe County government should become one combined governmental body. Washoe County boasts phenomenal demographics, with 2010 census median incomes totaling $67,428 and per capita incomes at $29,687.
Property Viewing
If you would like to visit this property or any other property in this auction event, you are required to execute and electronically submit a Temporary Access Agreement.
If you visit this property or any other property without first executing a Temporary Access Agreement, you will be trespassing. Please don't trespass on any properties.
Start Temporary Access Agreement
Financing
This is an Auction Plus event in which a financing contingency is permitted. On the bid form you will be asked to include financing details.
For further details about Financing, please read the Terms and Conditions of Sale located in the Documents section or contact the FRE.com Support Team.
Broker of Record for this property: LFC Marketing Services, Inc., NV license #NV #B.0076222.CORP
All information contained on this website or otherwise communicated, is from sources deemed reliable, but has not been verified for accuracy or completeness, or suitability for any particular purpose. It is presented "as is," and is not warranted or guaranteed by the Seller or its agents including but not limited to the Listing Broker, LFC Communications, Inc. and LFC Marketing Services, Inc. Buyers shall rely entirely on their own judgment, research and inspection of the Asset, and are encouraged to independently verify information and to consult with appropriate legal, financial and other advisors and real estate specialists.
BID DEADLINE:
Jul 04 5:00 pm PDT
Minimum Bid
US $384,000
Required bid deposit: US $1,000.00
Contingencies may be included with your bid
pop
How to Buy
Set up a free user account

Free registration with no obligation. Your account provides access to additional information and documents, as well as email updates.

Search & Select

Our website features different assets - Real Estate and REIT shares. Utilize our advanced search criteria to narrow down your selection.

Review Information

Access property information to make better-informed decisions. Available information varies depending on each real estate asset type.

Submit Deposit (if required)

Prior to placing a bid, you may need to submit a deposit. Deposits can be submitted using credit card, wire transfer or check.

Place Online Bid

Place bids on your selected asset prior to the deadline. Specifics vary for each asset.

Winner is Declared

Buyer deposits purchase funds, and closing coordinator assists Buyer and Seller with final paperwork.
BID NOT ACCEPTED
Your bid is below the minimum bid of
US $384,000
BID NOT ACCEPTED
Your bid must be at or above the next acceptable bid of %s.
CURRENT HIGH BID:
US $0
Minimum Bid Increment:
US $10,000
BID NOT ACCEPTED
Your bid must be at or above the next acceptable bid of %s.
CURRENT HIGH BID:
US $0

per share for shares.
Minimum Bid Increment:
per share
ADD PROPERTY TO FAVORITES
You must be registered as a real estate professional (agent or broker) to open the Broker/Agent Participation form.