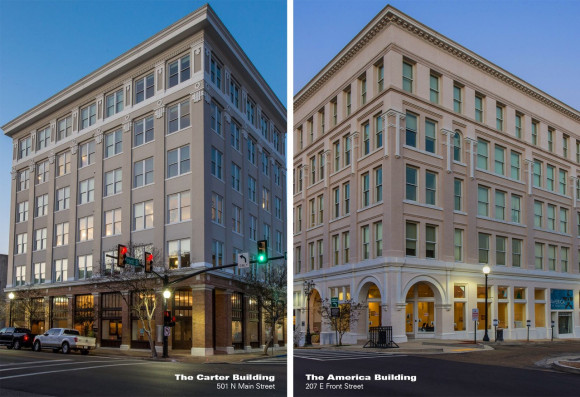 501 Main Street & 207 E Front Street
Hattiesburg, MS 39401
Forrest County

Property Type:

Commercial Property
Commercial Property For Sale in Hattiesburg, MS
Investment Property For Sale | Historic Real Estate
Property Description
The Future of Real Estate (FRE) is pleased to present the opportunity to acquire two beautifully restored historic apartment buildings totaling 52-units with ±12,710 SF retail and commercial space. Strong overall occupancy of 92%+ with very little turnover or vacancy periods.

Property consists of two apartment buildings which together are the "Hub City Lofts", the Carter Building (501 Main Street) and the America Building (207 East Front St); which are located directly adjacent to each other in the heart of Downtown Hattiesburg. There are 49 total parking spaces at Hub City Lofts for residents and tenants.

The Carter Building:


Originally constructed in 1904
The building retains the characteristic turn of the century elements including flat and arched fenestration ornamented with dripstones and rock-faced masonry, cast iron columns and cornices
Quality finishes throughout the interior of the building
32 Apartment Units (Size ranges from ±566 SF to ±1,181 SF)
Six-story building




Apt. units have been restored with new kitchens, baths, windows and updated heating and air conditioning
Original hardwood floors have been refurbished in each of the units.
±8,658 SF of commercial ground floor space
The America Building:


Built in 1907
Five-story building
20 Apartment Units (sizes range from ±581 SF to ±1,467 SF)
±4,052 SF of commercial space on first floor
Apt. Units have been reconfigured to allow for natural light and open living.

Kitchen and baths of apt. units feature modern hardware and fixtures with custom stained cabinets and stainless steel appliances.
New windows, heating and air conditioning systems ensure maximum comfort year round



Property Viewing
If you would like to visit this property or any other property, you are required to execute and electronically submit a Temporary Access Agreement.
If you visit this property or any other property without first executing a Temporary Access Agreement, you will be trespassing. Please don't trespass on any properties.
Start Temporary Access Agreement
Financing
There is not a Preferred Lender for this event.
If you choose to obtain financing from a third-party lender and the third-party lender is unable, for any reason, to provide you with a loan, then your bid shall be considered an ALL-CASH offer.
If you intend to purchase the property ALL CASH, you will be required to provide proof of verifiable funds prior to the offer deadline.
For further details about Financing, please read the Terms and Conditions of Sale located in the Documents section or contact the FRE.com Support Team.
Broker of Record for this property: Doug Rushing Realty, Inc., MS license #16355
All information contained on this website or otherwise communicated, is from sources deemed reliable, but has not been verified for accuracy or completeness, or suitability for any particular purpose. It is presented "as is," and is not warranted or guaranteed by the Seller or its agents including but not limited to the Listing Broker, LFC Communications, Inc. and LFC Marketing Services, Inc. Buyers shall rely entirely on their own judgment, research and inspection of the Asset, and are encouraged to independently verify information and to consult with appropriate legal, financial and other advisors and real estate specialists.
Minimum Offer
US $5,999,999
Previous List Price
:
US $10,000,000
Required Offer Deposit: US $1,000
Contingencies may be included with your offer
pop
How to Buy
Set up a free user account

Free registration with no obligation. Your account provides access to additional information and documents, as well as email updates.

Search & Select

Our website features different assets - Real Estate and REIT shares. Utilize our advanced search criteria to narrow down your selection.

Review Information

Access property information to make better-informed decisions. Available information varies depending on each real estate asset type.

Submit Deposit (if required)

Prior to placing a bid, you may need to submit a deposit. Deposits can be submitted using credit card, wire transfer or check.

Place Online Bid

Place bids on your selected asset prior to the deadline. Specifics vary for each asset.

Winner is Declared

Buyer deposits purchase funds, and closing coordinator assists Buyer and Seller with final paperwork.
BID NOT ACCEPTED
Your bid is below the minimum bid of
US $1
BID NOT ACCEPTED
Your bid must be at or above the next acceptable bid of %s.
CURRENT HIGH BID:
US $0
Minimum Bid Increment:
US $10,000
BID NOT ACCEPTED
Your bid must be at or above the next acceptable bid of %s.
CURRENT HIGH BID:
US $0

per share for shares.
Minimum Bid Increment:
per share
ADD PROPERTY TO FAVORITES
You must be registered as a real estate professional (agent or broker) to open the Broker/Agent Participation form.