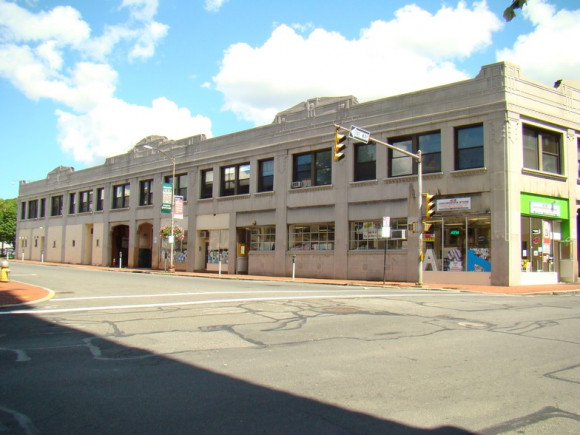 109 Chestnut Street
Springfield, MA 01103
Hampden County

Property Type:

Commercial Property
Commercial Property For Sale in Springfield, MA
Opportunity Zone Historic Commercial Building
Property Description
The Future of Real Estate FRE is pleased to present the Online Auction event for The Birnie Building, located in the historic Apremont Triangle District in Springfield, Massachusetts. This ±37,800 square foot Commercial Building offers a prime investment opportunity adjacent to and surrounded by redevelopment and new construction projects of all types. From housing, hospitality, major transportation hubs and expanding employment to local shopping, restaurants and entertainment, this offering is central to it all. Approximately ±4,700 businesses are based within the city, employing more than ±73,000 workers, making Springfield the economic hub of the region.
Location Overview:
Springfield sits on the eastern bank of the Connecticut River. Between the Springfield downtown core and the former Springfield Armory (now Springfield Technical Community College) is home to the Union Railroad Station redevelopment (completed June 2019) and the newly completed Federal Court House. The entrances to the major North/South Interstate I-91 and the major East/West Interstate I-90 are minutes from the Birnie Building property. The recently constructed MGM Springfield Hotel and Casino is open and only a ±5 minute walk from the subject property. Also walking distance from the property is Springfield Union Station and a state of the art regional intermodal transit center with local and long-distance buses and a new parking garage. Offering Amtrak rail service, it also includes office, retail and restaurant space which has been leased. Bradley International Airport is only ±14 miles from this property. And, located in the heart of downtown Springfield just two blocks from the Birnie Building is The Quadrangle which is home to the city's 5 Museums and the Planetarium.
Property Features:
±37,800 Square Feet - Two Story Class B Building
Municipality: City of Springfield, Hampden County, Massachusetts
Strong financial upside due to the 65-70% vacancy and current tenants at below market rents on a month-to-month (at will) rental term.
City of Springfield Population: ±155,032 (2018 estimate) and is the 3rd largest city in Massachusetts, the 4th most populous city in New England and the 12th most populous in the Northeastern United States.
Built in 1923 for the cutting edge technology of the day, the automobile, the Birnie Building, as with its sister building the Harris-Green building across the apex of the triangle, provided ground floor show rooms for the sale of new automobiles (including Rolls-Royces then manufactured in Springfield).
Tax Benefits for Redevelopment & Investment:
MassDevelopment has offered tax-exempt bond financing with the possibility of loan guarantees and limited recourse.
Given its location in a federally designated historic district, the Birnie Building is eligible for historic rehabilitation tax credits, 20% federal and 10% state.
The property is also eligible for the federal New Markets Tax Credits of 39%.
Opportunity Zone!
Property Viewing
If you would like to visit this property or any other property in this auction event, you are required to execute and electronically submit a Temporary Access Agreement.
If you visit this property or any other property without first executing a Temporary Access Agreement, you will be trespassing. Please don't trespass on any properties.
Start Temporary Access Agreement
Financing
There is not a Preferred Lender for this auction. You may not include a financing contingency with your bid.
If you intend to purchase the property ALL CASH, you will be required to provide proof of verifiable funds prior to the offer deadline.
For further details about Financing, please read the Terms and Conditions of Sale located in the Documents section or contact the FRE.com Support Team.
Broker of Record for this property: Fred Rowe, MA license #9000003
All information contained on this website or otherwise communicated, is from sources deemed reliable, but has not been verified for accuracy or completeness, or suitability for any particular purpose. It is presented "as is," and is not warranted or guaranteed by the Seller or its agents including but not limited to the Listing Broker, LFC Communications, Inc. and LFC Marketing Services, Inc. Buyers shall rely entirely on their own judgment, research and inspection of the Asset, and are encouraged to independently verify information and to consult with appropriate legal, financial and other advisors and real estate specialists.
pop
How to Buy
Set up a free user account

Free registration with no obligation. Your account provides access to additional information and documents, as well as email updates.

Search & Select

Our website features different assets - Real Estate and REIT shares. Utilize our advanced search criteria to narrow down your selection.

Review Information

Access property information to make better-informed decisions. Available information varies depending on each real estate asset type.

Submit Deposit (if required)

Prior to placing a bid, you may need to submit a deposit. Deposits can be submitted using credit card, wire transfer or check.

Place Online Bid

Place bids on your selected asset prior to the deadline. Specifics vary for each asset.

Winner is Declared

Buyer deposits purchase funds, and closing coordinator assists Buyer and Seller with final paperwork.
BID NOT ACCEPTED
Your bid is below the minimum bid of
US $499,000
BID NOT ACCEPTED
Your bid must be at or above the next acceptable bid of %s.
CURRENT HIGH BID:
US $0
Minimum Bid Increment:
US $10,000
BID NOT ACCEPTED
Your bid must be at or above the next acceptable bid of %s.
CURRENT HIGH BID:
US $0

per share for shares.
Minimum Bid Increment:
per share
ADD PROPERTY TO FAVORITES
You must be registered as a real estate professional (agent or broker) to open the Broker/Agent Participation form.