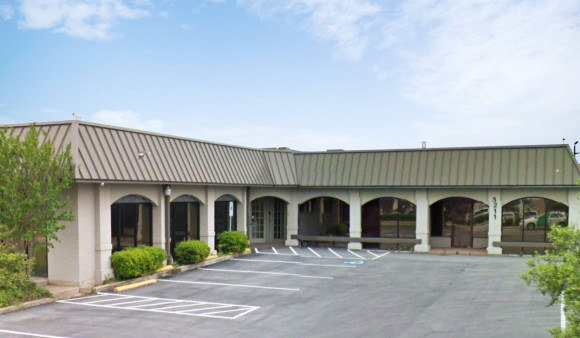 3211 Norton Drive
Richland Hills, TX 76118
Tarrant County

Property Type:

Commercial Property

Interior Space:
± 4,670 ft2

Lot Size:

&plusmn0.24 acres
Commercial Property For Sale in Richland Hills, TX
Office Building w/ Potential for 4 Suites w/ Warehouse Space
Property Description
Located just off Baker Boulevard on Norton Drive in Richland Hills, TX, this ±4,670 SF freestanding office building has the potential for 4 suites with warehouse space.

Property Highlights include:


All new networking
New flooring and carpet
2 new A/C units installed on top of roof
Plumbing and electrical upgrades
Cameras and DVR's throughout
Easy access to I-820 and Hwys. 10 and 121
Ample parking
Mid Cities location in fast growing area
Richland Hills, TX: The location of Richland Hills in the Dallas/Fort Worth Metroplex is unmatched. Encompassing approximately 3.9 square miles in Northeast Tarrant County, the City borders the northeast corner of Fort Worth, is less than 20 miles from the Dallas/Fort Worth International Airport, less than 15 miles to downtown Fort Worth and less than 30 miles to downtown Dallas. The City fronts State Highway 183, State Highway 121, and State Highway 26. Easy access is provided to each via Interstate 820.

Railroad access is currently available to the City's largest industrial park and commuter rail connects Richland Hills to downtown Fort Worth and Dallas. Rider Request bus service is provided throughout the City and to neighboring Fort Worth. Express bus service is available to downtown Fort Worth. Very few other communities in the Metroplex can offer this combination of intermodal access to the Dallas/Fort Worth Metroplex.

Click the following links below to access more information on Richland Hills, TX:
www.richlandhills.com
www.city-data.com
Property Viewing
If you would like to visit this property or any other property in this auction event, you are required to execute and electronically submit a Temporary Access Agreement.
If you visit this property or any other property without first executing a Temporary Access Agreement, you will be trespassing. Please don't trespass on any properties.
Start Temporary Access Agreement
Financing
There is not a Preferred Lender for this auction. You may not include a financing contingency with your bid.
If you intend to purchase the property ALL CASH, you will be required to provide proof of verifiable funds prior to the offer deadline.
For further details about Financing, please read the Terms and Conditions of Sale located in the Documents section or contact the FRE.com Support Team.
Broker of Record for this property: DFW Lee & Associates, L.P., TX license #546274
All information contained on this website or otherwise communicated, is from sources deemed reliable, but has not been verified for accuracy or completeness, or suitability for any particular purpose. It is presented "as is," and is not warranted or guaranteed by the Seller or its agents including but not limited to the Listing Broker, LFC Communications, Inc. and LFC Marketing Services, Inc. Buyers shall rely entirely on their own judgment, research and inspection of the Asset, and are encouraged to independently verify information and to consult with appropriate legal, financial and other advisors and real estate specialists.

Minimum Offer
US $350,000
Previous List Price
:
US $585,000
Required bid deposit: US $1,000
pop
How to Buy
Set up a free user account

Free registration with no obligation. Your account provides access to additional information and documents, as well as email updates.

Search & Select

Our website features different assets - Real Estate and REIT shares. Utilize our advanced search criteria to narrow down your selection.

Review Information

Access property information to make better-informed decisions. Available information varies depending on each real estate asset type.

Submit Deposit (if required)

Prior to placing a bid, you may need to submit a deposit. Deposits can be submitted using credit card, wire transfer or check.

Place Online Bid

Place bids on your selected asset prior to the deadline. Specifics vary for each asset.

Winner is Declared

Buyer deposits purchase funds, and closing coordinator assists Buyer and Seller with final paperwork.
BID NOT ACCEPTED
Your bid is below the minimum bid of
US $350,000
BID NOT ACCEPTED
Your bid must be at or above the next acceptable bid of %s.
CURRENT HIGH BID:
US $0
Minimum Bid Increment:
US $5,000
BID NOT ACCEPTED
Your bid must be at or above the next acceptable bid of %s.
CURRENT HIGH BID:
US $0

per share for shares.
Minimum Bid Increment:
per share
ADD PROPERTY TO FAVORITES
You must be registered as a real estate professional (agent or broker) to open the Broker/Agent Participation form.