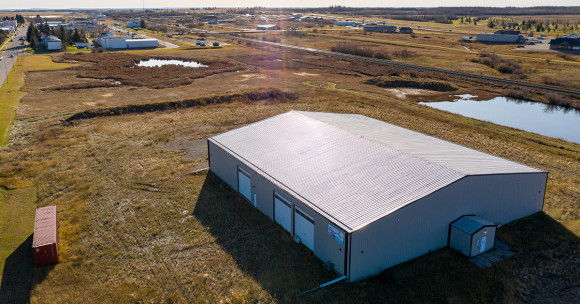 5327 52 Avenue
Tofield, AB
Canada


Property Type:

Commercial Property

Interior Space:
± 17,000 ft2

Lot Size:

&plusmn21.41 acres
Commercial Property For Sale in Tofield, AB, Canada
Bankruptcy Auction | Industrial Real Estate For Sale In Alberta
Property Description
BANKRUPTCY AUCTION! INDUSTRIAL ASSET - MUST SELL!
The Future of Real Estate FRE is pleased to present the Online Auction Plus event for a strategically located ±16,950 SF Industrial building on ±21.41 acres in the Town of Tofield, Alberta, Canada. This highly visible property is located at 52nd Avenue and 56th Street just off of Highway 14 within the town's central hub. The property currently consists of six (6) contiguous land parcels, which allows for a future owner to subdivide. The property is zoned M - Industrial District.
Building Features:


±16,950 SF Industrial building on ±21.41 acres
Adjacent to rail line
Zoning: M - Industrial District. M - Industrial District accommodates manufacturing and industrial activities
Built in 2006
Building Height: 20' at the eave; clear ceiling height varies from 16' to 24'
Building has gas & electrical, with the power supply a 600 amp/240 volt 3 phase 4 wire service. T5-LED lighting is suspended and insulation and radiant tube heating in-place
Utilities: Fully serviced with water and sanitary sewer. Buyer to verify.
Building has five (5) overhead doors providing access to the warehouse manufacturing area, all are 16' in height, three (3) of which are 16' in width and two (2) are 20' in width
The ±21.41 acres consists of six (6) lots, which can then be subdivided individually and sold by the new owner
Property Viewing
If you would like to visit this property or any other property in this auction event, you are required to execute and electronically submit a Temporary Access Agreement.
If you visit this property or any other property without first executing a Temporary Access Agreement, you will be trespassing. Please don't trespass on any properties.
Start Temporary Access Agreement
Financing
This is an Auction Plus event in which a financing contingency is permitted. On the bid form you will be asked to include financing details.
For further details about Financing, please read the Terms and Conditions of Sale located in the Documents section or contact the FRE.com Support Team.
All information contained on this website or otherwise communicated, is from sources deemed reliable, but has not been verified for accuracy or completeness, or suitability for any particular purpose. It is presented "as is," and is not warranted or guaranteed by the Seller or its agents including but not limited to the Listing Broker, LFC Communications, Inc. and LFC Marketing Services, Inc. Buyers shall rely entirely on their own judgment, research and inspection of the Asset, and are encouraged to independently verify information and to consult with appropriate legal, financial and other advisors and real estate specialists.
The auction has ended.
Sign up today so you don't miss out on another auction. Contact us with any questions you may have and we'd be happy to guide you to a property that's similar to this one.
Search Auctions
pop
How to Buy
Set up a free user account

Free registration with no obligation. Your account provides access to additional information and documents, as well as email updates.

Search & Select

Our website features different assets - Real Estate and REIT shares. Utilize our advanced search criteria to narrow down your selection.

Review Information

Access property information to make better-informed decisions. Available information varies depending on each real estate asset type.

Submit Deposit (if required)

Prior to placing a bid, you may need to submit a deposit. Deposits can be submitted using credit card, wire transfer or check.

Place Online Bid

Place bids on your selected asset prior to the deadline. Specifics vary for each asset.

Winner is Declared

Buyer deposits purchase funds, and closing coordinator assists Buyer and Seller with final paperwork.
BID NOT ACCEPTED
Your bid is below the minimum bid of
CAD $1
BID NOT ACCEPTED
Your bid must be at or above the next acceptable bid of %s.
CURRENT HIGH BID:
CAD $0
Minimum Bid Increment:
CAD $10,000
BID NOT ACCEPTED
Your bid must be at or above the next acceptable bid of %s.
CURRENT HIGH BID:
CAD $0

per share for shares.
Minimum Bid Increment:
per share
ADD PROPERTY TO FAVORITES
You must be registered as a real estate professional (agent or broker) to open the Broker/Agent Participation form.