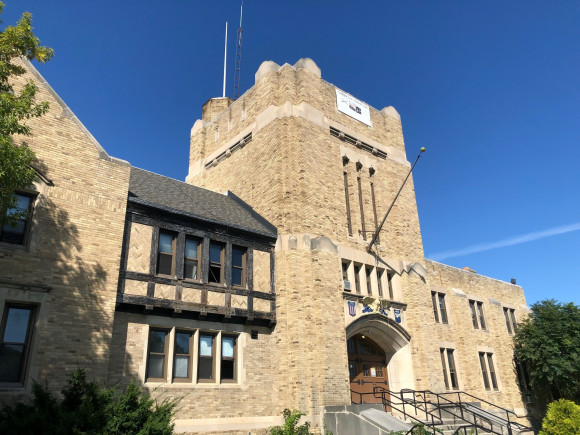 1101 Chavez Dr
Flint, MI 48503
Genesee County

Property Type:

Commercial Property

Lot Size:

&plusmn3.36 acres
Commercial Property For Sale in Flint, MI
Online Auction for ±48,452 SF former Armory in Flint, MI
Property Description
** MINIMUM BID MEETS RESERVE **
The former
Historic Flint Armory
is now available to purchase via Online Auction! The ±48,452 SF historic building is strategically located along the I-475 with a dedicated on/off ramp from I-475.
Property Highlights/Features as follows:
Total square footage is ±48,452 SF which is made up of 3 buildings with the Armory totaling ±37,212 SF and the built-out garage totaling ±9,240 SF and a separate third building is ±2,000 SF
Located Near the Mahindra Buick City Project
Armory originally built in 1924 and has newer windows, electrical, roof, and 2 commercial kitchens
Ideal logistics center, storage facility, R&D Center, or housing redevelopment
Cash flow in-place: ±19% leased (garage building) with a $30,000/yr NOI ($3.25 psf NNN)
Tenant has recently signed a three (3) year lease extension with rental increases
Armory consists of a large gym, multiple classrooms, commercial kitchen and lunch hall as well as stables, bowling alley, shooting ranges and hands-on training rooms
Ready facility for repairing trucks and rigs with over $1M invested by State of Michigan
±3.36 Acres of fenced and military secure paved yard
Viewing Schedule
The dates below are currently set for public viewing:
| Day | Date | Time | Comments |
| --- | --- | --- | --- |
| Wednesday | Nov. 13 | 09:00 am to 12:00 pm | |
Financing
There is not a Preferred Lender for this auction. You may not include a financing contingency with your bid.
If you intend to purchase the property ALL CASH, you will be required to provide proof of verifiable funds prior to the offer deadline.
For further details about Financing, please read the Terms and Conditions of Sale located in the Documents section or contact the FRE.com Support Team.
Broker of Record for this property: Pike Street Properties, LLC, MI license #6505404082
All information contained on this website or otherwise communicated, is from sources deemed reliable, but has not been verified for accuracy or completeness, or suitability for any particular purpose. It is presented "as is," and is not warranted or guaranteed by the Seller or its agents including but not limited to the Listing Broker, LFC Communications, Inc. and LFC Marketing Services, Inc. Buyers shall rely entirely on their own judgment, research and inspection of the Asset, and are encouraged to independently verify information and to consult with appropriate legal, financial and other advisors and real estate specialists.
BID DEADLINE:
Jul 16 5:00 pm EDT
Minimum Bid
US $295,000
Suggested Value
:
US $700,000
Required bid deposit: US $1,000
pop
How to Buy
Set up a free user account

Free registration with no obligation. Your account provides access to additional information and documents, as well as email updates.

Search & Select

Our website features different assets - Real Estate and REIT shares. Utilize our advanced search criteria to narrow down your selection.

Review Information

Access property information to make better-informed decisions. Available information varies depending on each real estate asset type.

Submit Deposit (if required)

Prior to placing a bid, you may need to submit a deposit. Deposits can be submitted using credit card, wire transfer or check.

Place Online Bid

Place bids on your selected asset prior to the deadline. Specifics vary for each asset.

Winner is Declared

Buyer deposits purchase funds, and closing coordinator assists Buyer and Seller with final paperwork.
BID NOT ACCEPTED
Your bid is below the minimum bid of
US $295,000
BID NOT ACCEPTED
Your bid must be at or above the next acceptable bid of %s.
CURRENT HIGH BID:
US $0
Minimum Bid Increment:
US $10,000
BID NOT ACCEPTED
Your bid must be at or above the next acceptable bid of %s.
CURRENT HIGH BID:
US $0

per share for shares.
Minimum Bid Increment:
per share
ADD PROPERTY TO FAVORITES
You must be registered as a real estate professional (agent or broker) to open the Broker/Agent Participation form.