SIGN UP FOR REAL ESTATE MARKET NEWS & TRENDS×
As housing prices in 2020 rise, so do changes in lifestyles.
One of the real estate axioms that lenders, buyers, and sellers have believed for years is that falling interest rates spur home purchases. Lately, however, that premise is being tested by the increasing distance between home prices and incomes.
According to the National Association of Realtors (NAR), housing affordability across the country tumbled in October 2019. The NAR reported that while the median sales price of a single-family home sold in October was up 6.2 percent from the year prior, the median family income rose only 3.3 percent.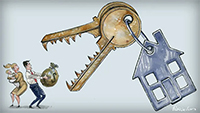 Nowhere in the country is the dichotomy being felt more than in California, where:
The median price for a home is over $600,000, more than twice the national median price.
Four of the country's five most expensive residential markets are located.
It is the site of the nation's highest share of households spending more than 30% of their income on housing.
The state's Proposition 13 is causing more people to stay in their homes longer, further reducing supply.
Unfortunately, the rest of the country is moving more toward the California model.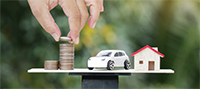 But there is another axiom at play these days: For every action, there is an equal and opposite reaction. In this case, the reaction is to innovate the way we live.
In Florida, the co-living concept has not only taken root, it is growing like a weed. Co-living is the concept of offering shared living spaces for age-appropriate and like-minded people. Co-living Miami, for example, rent in a building owned by New York-based Property Markets Group (PMG) will start at about $1,100 for a bedroom that is part of a three-bedroom apartment unit.
PMG is in the process of broadening their appeal from co-living millennials to co-living for seniors and is planning to create more than 5,000 similar co-living units over the next five years.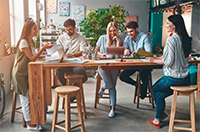 Co-living is just one adjustment to the new real estate normal. Across the country, buyers are looking not only for affordability, but also convenience. They prefer walkable downtowns, efficient transportation without a car, and a host of the most important services either a text or walk away.
Nationwide, sales growth is predicted to slow to about 1.8 percent but the transition to second-tier cities has already begun. In 2020, a 2.4 percent increase in real estate home sales is expected in a more affordable clutch of towns that includes Boise, ID; Rochester, NY; and Chattanooga, TN.
As the old real estate rules continue to bend or break, look for more groundbreaking adjustments in the way we buy and sell homes.