SIGN UP FOR REAL ESTATE MARKET NEWS & TRENDS×
Some buyers and sellers are hesitant to participate in real estate auctions because they have questions about how real estate auctions work. While getting started in commercial real estate auctions or residential real estate auctions requires the requisite learning curve, most people are pleased to find that bidding on real estate can be both invigorating and profitable. Here are a few key things to know…
The four most popular styles of real estate auctions are: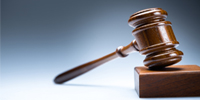 Absolute — In this simple format, the highest bidder wins, regardless of the amount of the bid.
Reserve — The highest bidder wins, but the bid must meet or exceed the reserve, which is a pre-determined amount.
Minimum bid — A pre-determined price is disclosed at the time of the auction. All bids must meet or exceed the minimum.
Dutch — Contrary to traditional upward bidding, Dutch auction prices move lower until there is a bid meeting or beating the reserve.
Real estate bidding has variations, too, which include: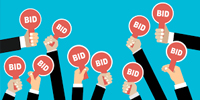 Sealed bid auctions — Bids are submitted simultaneously and bidders do not know the amounts the other participants have bid. The highest bidder wins, provided the buyer can meet the conditions of the sale.
Live — An auctioneer hosts the event in front of interested bidders. Phone bids are sometimes allowed.
Buy it now — A live auction that skips the traditional format by allowing a buyer to close the sale if the bid meets a pre-determined price.
Technology has allowed for a hybrid auction which allows live, phone, and online bids.
Auction formats include online versions and live, or "outcry" events. In a real estate auction online, participants can view documents and even take virtual tours prior to placing a bid. Here, real estate auction online bidding can be done remotely and conveniently. For more information,
click here
to see our recent blog post explaining the process in detail.
Property for sale in a live or outcry auction may involve foreclosure listings that may be advertised, though the announcements may be limited to local media. Bidders are responsible for conducting the necessary due diligence before submitting a bid. The auction location, date, and time are set in advance, which is why these real estate auctions are also referred to as "courthouse auctions," "courthouse steps auctions," or "foreclosure auctions." Bank-owned properties are common in this setting.
In a live auction, bidding starts and ends quickly and final bids at 30 percent or more below the appraised value are not unusual. The property is sold "as is" and, if there has been no formal appraisal, the winning bid is usually based on the amount of the outstanding loan.
Real estate auctions can be fun and profitable. To learn how to find foreclosures or how to start real estate investing with little money,
click here to contact FRE online
.