Case Studies
120-acre Land Parcel-Lake Hallie, WI, USA
SUMMARY: Successfully orchestrated the bankruptcy sale of 120 acres of vacant land in Lake Hallie, Wisconsin.
CHALLENGE: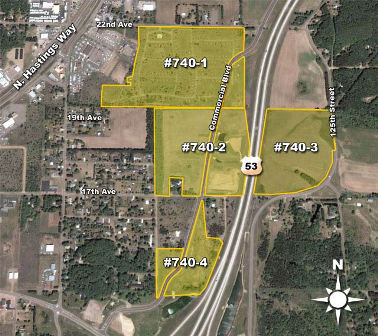 In the spring of 2009, LFC entered into a partnership with the local commercial real estate brokerage Grubb & Ellis | Pfefferle to orchestrate the U.S. Bankruptcy Court-ordered sale of 120 acres of vacant land in Lake Hallie, Wisconsin. The property had been sitting idle on the market for years and had proven stubbornly resistant to conventional brokerage strategies. Determined to explore alternative sales strategies, broker Tom Scheuerman reached out to LFC, whose marketing team brought a new set of eyes to this difficult property sale.
This sale was particularly complex due to the multiple parties involved, including the U.S. Bankruptcy Court, the local bank that owned the loan on the land, and the borrower who had filed for bankruptcy. As such, the sale of this land needed to satisfy the mutual interests of all parties involved, namely, transparency, velocity of sale and price maximization.
IMPLEMENTATION:
LFC conducted extensive research into the regional market and the history of unsuccessful attempts to sell this land. Recognizing that the sum of the parts was greater than the whole, LFC made the crucial decision to divide the 120-acre property into four individual parcels, making the land more desirable and flexible for buyers. This also helped maximize the sales price for each respective parcel. LFC's marketing team launched a comprehensive, accelerated campaign that succeeded in attracting over 450 hits to the auction website and brought in 20 registrants, 10 of whom submitted bid deposits in trust.
LFC's decision to split the land into four parcels allowed many more bidders to participate; in fact, LFC had received 19 sealed bids in total by the day of the initial bid deadline. Two of the parcels then entered Last Call®, with bidders aggressively competing over a span of 12 days. By the end of the auction, Last Call® had generated an additional $385K, or 18%, in revenue.
| | | | |
| --- | --- | --- | --- |
| Bid Amount | Bidder | Bid Type | Date |
| $525,000 | AND533 | Last Call | 6/19 |
| $326,000 | AND533 | Last Call | 6/1 |
| $286,000 | MAT314 | Last Call | 6/1 |
| $276,000 | AND533 | Last Call | 5/29 |
| $266,000 | MAT314 | Last Call | 5/29 |
| $255,970 | AND533 | Highest Sealed Bid | 5/19 |
RESULTS: LFC successfully sold all four land parcels in less than three months through a highly transparent online auction at prices that far exceeded anyone's expectations. In total, the four land parcels sold for a combined $2.6 million.
CLIENTS & BROKERS WE'VE WORKED WITH
We've successfully auction marketed and sold commercial real estate and residential real estate for large financial institutions, government agencies, international brokerages, developers, residential builders and private sellers across the globe.