Case Studies
Adelphia Bankruptcy Property Portfolio, Multiple States, USA
SUMMARY: Successfully orchestrated the bankruptcy sale of Adelphia Communications' former corporate headquarters in Coudersport, Pennsylvania.
CHALLENGE: After initially selling over 60 properties for Adelphia Communications Corporation in a groundbreaking U.S. Bankruptcy Court-ordered online auction campaign,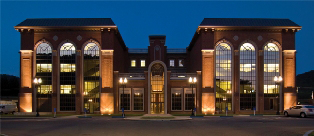 LFC was tasked with an even tougher challenge: conducting an online auction for Adelphia's infamous corporate headquarters in central Pennsylvania. Better known as the "Taj Mahal" of small-town Coudersport, this last remaining icon of Adelphia's empire was an ornate 72,000 square foot office building. Built in an era of corporate excess and extravagant opulence, the building featured cherry paneling, parquet hickory wood floors, granite pillars, Palladian windows and even heated exterior sidewalks. When Adelphia Communications Corporation collapsed into bankruptcy in 2002, the building was listed for sale by a well known national commercial property brokerage company, whose four year effort to find a buyer for this remote building proved unsuccessful. Adelphia subsequently chose the LFC Group of Companies to conduct an online auction campaign in the summer of 2007.
IMPLEMENTATION: The extensive media coverage surrounding Adelphia's controversial bankruptcy and ensuing corporate scandal gave LFC a valuable edge in the public relations and marketing campaign. As a result, the auction was covered by several major news organizations, including the Associated Press, Bloomberg News and the New York Times. LFC also embarked on an extensive advertising campaign, placing ads nationally and internationally in publications like the Wall Street Journal, Global Edition; USA Today; the Washington Post and Business Journals in several major US cities. Over the course of the 90-day campaign, the tremendous media exposure produced over 15,000 visitors to the auction web page, as well as 600+ registrations, 100+ financial prequalifications, 42 individual property tours and 12 bidders who had each tendered $100,000 bid deposits. After 20 days of a day-to-day Last Call® bidding war, the auction ended with a high bid of $3.2 million.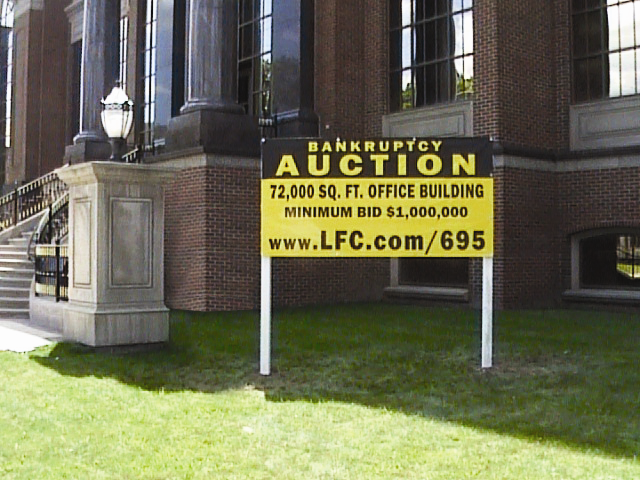 Shortly after the auction ended, the winning bidder, an investor from Mexico, defaulted on the purchase. Without skipping a beat, LFC quickly found a second buyer, a businessman from Northern Ireland who agreed to a purchase price of $3.4 million. The buyer wired the required funds to a Boston attorney; however, the sale soon became mired in scandal. The buyer's funds allegedly changed hands several times and were found much later by the FBI at a Miami airport, in cash, concealed in brown paper and plastic bags on a private jet bound for Venezuela.
Needless to say, the Irish buyer defaulted, and LFC put the building back on the online auction block in February of 2008 at a minimum bid of $3 million. After an intense two-week marketing campaign, with an additional week of day-to-day "Last Call" bidding, LFC found the third and final buyer, who closed the sale in mid-March with a final purchase price of $3.6 million.
| | | | | | |
| --- | --- | --- | --- | --- | --- |
| | Bid Amount | Bidder | Bid Type | Date | |
| | $3,600,000 | KLE140 | Last Call Bid | 2/20 | |
| | $3,500,000 | VAL561 | Online Bid | 2/19 | |
| | $3,200,000 | KLE140 | Online Bid | 2/14 | |
| | $3,100,000 | SEP503 | Online Bid | 2/5 | |
RESULTS: LFC successfully sold this challenging property by capitalizing on media interest and forging a global marketing campaign that brought in buyers from across the world.
CLIENTS & BROKERS WE'VE WORKED WITH
We've successfully auction marketed and sold commercial real estate and residential real estate for large financial institutions, government agencies, international brokerages, developers, residential builders and private sellers across the globe.