Case Studies
Commercial Property Portfolio-FL & MI, USA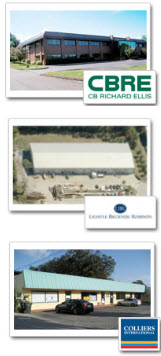 SUMMARY: This lender-owned portfolio was similar to many others our auction marketing specialists have handled recently; scattered properties. This particular portfolio included two properties located in Florida: one a light industrial warehouse in DeLand and the other a partially leased retail center in Fernandina Beach. The third property, a two-story vacant office building, was located just outside Farmington Hills in Michigan.
CHALLENGE: A scattered property portfolio requires diligent research and planning to effectively market the properties to targeted buyer audiences.
IMPLEMENTATION:The dynamics of this portfolio prompted the in-house advertising agency to plan and execute several parallel campaigns: the complete portfolio, one for each individual property, one for the local Farmington Hills market and one for the Florida market. The advertising plans included direct mail to surrounding property and business owners, an email campaign to investors and the brokerage community through top-performing distribution channels such as PropertyLine, Cmail and LoopNet, as well as web banners placed on regional real estate websites and industry eNewsletters: Florida Real Estate and Heartland Real Estate. Involving the local real estate brokers, the ad agency developed individually branded email blasts for them to send to their own buyer and broker databases.
RESULTS: During the extensive advertising campaign, the auction webpages for these properties on FRE.com received nearly 2,900 hits and 84 registered prospects. The high number of interested buyers was attributed to the appeal of the low minimum bids. At the initial bid deadline, each property received bids but experienced different closing scenarios in the sale of the properties.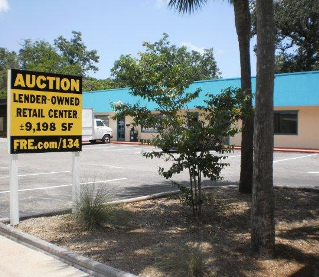 The shopping/retail center in Fernandina Beach remained in Sealed Bid format with the seller accepting the highest sealed bid received. It is this side of our unique two-part bidding process that gave the seller price point protection by not revealing the bids, yet the flexibility to proceed with the sale.
The other two properties, the office building in Farmington and the light industrial warehouse in DeLand, Florida, went into Last Call® with their highest sealed bids posted on the webpages. The Last Call® format gave under bidders the opportunity to place subsequent bids online as the bid deadline was extended day-to-day until no further bids were placed. This side of the bidding process delivers the highest market value while providing buyers a fair and transparent way to purchase the property. In the end, the online bidding brought a final sales price on each property that the seller was happy to accept and proceed with the non-contingent, 30-day closing process.
CLIENTS & BROKERS WE'VE WORKED WITH
We've successfully auction marketed and sold commercial real estate and residential real estate for large financial institutions, government agencies, international brokerages, developers, residential builders and private sellers across the globe.