Case Studies
Grand Opening Condo Auction-Palm Desert, CA, USA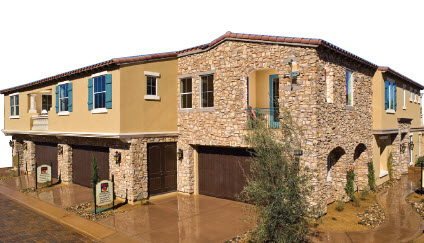 SUMMARY: The auction sales technique really stands out when you have a supply/demand imbalance in the marketplace. During the recent financial crises, in most locations throughout the world, residential property supply exceeded buyer demand. Now in many locations buyer demand exceeds property supply due in part to low mortgage interest rates and the fact that, in some locations, no new construction has taken place for a number of years.
CHALLENGE: Lake Park Development, a medium sized residential developer in Southern California, hadn't built any new homes in more than 5 years when they elected to commence construction on 42 luxury condominiums in California's prestigious community of Palm Desert. Before they even broke ground on their new project, they had potential buyers wanting to submit their purchase deposits. This created a dilemma for the developer:  How should they determine the unit pricing? They didn't want to underprice their product and sell their condominiums too cheaply, but they also didn't want to overprice them and drive away potential buyers.
While the units were still in the construction stage, Lake Park elected to have the LFC Group of Companies auction market the condominiums in a "Grand Opening Close-Out Auction" on its Freedom Realty Exchange website. The objective was to have the potential buyers determine the individual unit sales prices in a transparent, highly competitive bidding environment.
IMPLEMENTATION: After two weeks of preparation, which included placing property-specific information including floor plans, elevation renderings and other significant documentation on the FRE website, LFC's advertising agency conducted an approximately 45-day advertising/marketing campaign that produced more than 17,000 unique "clicks" to the website from interested prospects located in 17 states and 5 countries outside of the United States.  More than 550 of these individuals elected to register, which allowed them to review and download over 50,000 pages of property-specific information and documents. Interested parties were literally conducting their initial due diligence from locations around the world. During the marketing campaign, LFC staffed an onsite Auction Information Office with property hosts who were knowledgeable regarding both the property and the LFC auction process.  More than 5,000 individuals visited the AIO during this 6-week period.
Given the world-renowned golf culture in California's famous desert, extensive advertisements and feature articles were submitted to the online golf course publications with the most web traffic such as: WorldGolf.com, GolfCourseRealty.com, GolfCalifornia.com and TravelGolf.com. Though advertising on these sites alone might have achieved a hole in one, LFC wanted to better its score by advertising across the country.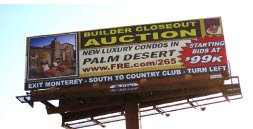 The key to measuring the exponential growth of prospective buyer traffic to both the property and online auction is the use of LFC's sophisticated Media/Prospect Tracking System (MPTS). Every marketing facet was monitored and analyzed as people flocked to the auction website throughout the course of the campaign and thereafter. This way, appropriate adjustments were made to tweak the campaign's advertising strategy for optimum effectiveness. The MPTS allowed FRE to utilize over 50 marketing and public relation tools to reach across the nation to gain the buyer attention that these stunning condominiums deserved.
RESULTS: As the initial bid deadline approached, online sealed bids were placed and validated with the wire transfers of US$10,000 to the escrow company's trust account. Once the initial bid deadline was reached, the highest sealed bid for each property was published online and the auction transitioned into a live day-to-day Universal Last Call® bidding format. During Universal Last Call, if a bid is received on any single property within the specified time period, the auction deadline is extended for all of the properties. After spirited Universal Last Call bidding had taken place for 10 days, LFC transitioned the Universal Last Call bidding format from day-to-day to hour-to-hour, which lasted an additional 7 hours. During the 8 days of Universal Last Call bidding, over 125 bidders, in front of their computers in the privacy of their homes and offices and various other locations, vied for the 42 condominiums in an intense and highly competitive atmosphere. 
As Universal Last Call bidding concluded, winning bidders were determined. They then had 48 hours to increase their US$10,000 bid deposit to a purchase deposit in an amount of 10% of the winning bid amount which in some cases amounted to as much as US$50,000. Approximately 45 days later, as the construction of the condominiums was completed, the individual closings took place with an aggregate value of over US$18 million.

---
"Without the LFC auction marketing program, there is no way our properties would have generated such widespread interest from serious prospective buyers.  LFC's online auction system exceeded our expectations of driving buyers to compete for our homes. The all-encompassing program went to unprecedented lengths to make the auction a phenomenal success and to sell our homes in the shortest possible time, resulting in virtually no cost of carry pursuant to unsold inventory."
Richard Thomas, Principal
Lake Park Development
CLIENTS & BROKERS WE'VE WORKED WITH
We've successfully auction marketed and sold commercial real estate and residential real estate for large financial institutions, government agencies, international brokerages, developers, residential builders and private sellers across the globe.