Case Studies
Hudson River Condominiums-Weehawken, NJ, USA
SUMMARY: LFC sold 97 condominium units that grossed over $30 million in revenue.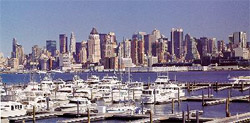 CHALLENGE: The Riva Pointe condominiums had been recently acquired by Credit Suisse First Boston (CSFB). The unfinished project had been marketed for more than 3 years and CSFB had an inventory of nearly 100 units that it wanted to sell immediately.
IMPLEMENTATION: The Riva Pointe Condominiums are located in Weehawken, New Jersey, on a former supertanker pier that juts 1,000 feet into the Hudson River. The project is part of the 95-acre Lincoln Harbor waterfront complex. The Riva Pointe units enjoy sweeping views of the Manhattan skyline and are located adjacent to a private marina, fine restaurants and multi-tenant office buildings.
The project had been marketed for more than three years when its new owner, Credit Suisse First Boston, contracted with the LFC Group of Companies to take it over. LFC's combined services included asset management, advertising/ marketing and sales. In approximately three months, LFC Asset Management Services had stabilized the homeowners association and completed the construction of the remaining unfinished units and LFC Communications Limited had developed a comprehensive advertising/ marketing program.
The former developer's sales program had previously targeted the New Jersey commuter market with marginal success. Due to the project's ease of access to Midtown Manhattan (The Lincoln Tunnel is less than a mile away and round-trip water-ferry service is available year round every 15 minutes.), LFC correctly believed that the true market for the units was located in Manhattan rather than New Jersey and included singles and empty-nest buyers who wanted to upgrade their lifestyles and were willing to commute to work daily across the Hudson River.
LFC also correctly surmised that the local residential market had bottomed out and was in ascension at the point in time that we were ready to commence our marketing campaign. Therefore, rather than sell all of the units at a single auction event, we felt that we could maximize our client's gross revenue by conventionally selling the units in phased releases. This approach allowed us to increase the individual unit prices with the release of each new phase.
RESULTS:All 97 Riva Pointe units were marketed and sold by LFC in less than a year with gross revenue of almost $30 million. LFC estimates that this marketing approach resulted in the generation of an additional $3 million in gross profit for our client.
CLIENTS & BROKERS WE'VE WORKED WITH
We've successfully auction marketed and sold commercial real estate and residential real estate for large financial institutions, government agencies, international brokerages, developers, residential builders and private sellers across the globe.