Case Studies
Residential Estate, Chester, NJ, USA
SUMMARY: Sold three high-end residential estates in New Jersey.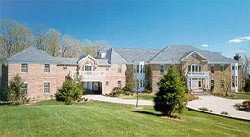 CHALLENGE: The Crown Estates was a luxury lender-owned development in Chester, New Jersey. The estates were 6,500 to 11,000 square foot homes situated on expansive lots of 3 to 12 acres. The estates sat on the market unsold for more than 3 years.
IMPLEMENTATION: Chester Township is located in Morris County, New Jersey. Chester Township remains an attractive community offering a "country" atmosphere together with good schools, excellent services, a downtown village business area, large parks, recreational facilities, and easy access to cultural centers.
The former developer had focused his marketing efforts primarily in Manhattan - and, for the most part, his marketing efforts had been ineffective. LFC felt that since the commute from the property to Manhattan is an average of 2 hours each way, the true target market could possibly be found within New Jersey. Therefore, LFC focused its marketing campaign in the New Jersey media, which proved to be the correct choice. The LFC Group of Companies provided advertising, public relations, sales, mortgage and escrow services during the course of this very successful marketing campaign.
Due to the rarified, high-end nature of the properties, we also knew that our bidder-to-property ratio would be very low. We therefore elected to implement a sealed bid auction format for the three estate properties. A sealed bid auction format has certain pros and cons, but it allows the seller to accept and review all unpublished bids on an individual basis. Again, this approach turned out to be the correct choice as LFC received a minimum number of bids on the three properties but were still able to sell and close all of them. The former developer had sold only two Crown Estate residences in the three years prior to our involvement.
RESULTS:LFC sold and closed the remaining three estate residences in less than 100 days from the execution of the advertising and marketing agreements to the close of the final property sale.
CLIENTS & BROKERS WE'VE WORKED WITH
We've successfully auction marketed and sold commercial real estate and residential real estate for large financial institutions, government agencies, international brokerages, developers, residential builders and private sellers across the globe.